A Chinese research ship and five escort vessels were in Vietnam's exclusive economic zone (EEZ) on Friday close to gas blocks operated by Russian firms in the South China Sea, a day after Vietnam urged the ships to leave.
The Chinese vessel Xiang Yang Hong 10 began operating in Vietnam's EEZ on May 7, representing the most significant incursion since 2019, according to Ray Powell, who leads Stanford University's Project Myoushu on the South China Sea.
He said China's conduct and Vietnam's reaction were a "worrying escalation".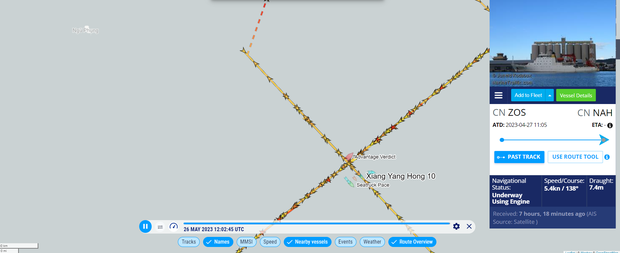 China claims most of the energy-rich waters of the South China Sea, including areas that are within Vietnam's EEZ.
The 2019 standoff lasted for more than three months and largely targeted a block then operated by Russian state oil firm Rosneft. Less than two years after that, Rosneft sold its assets in the South China Sea to Russia's state-owned firm Zarubezhneft, which operates some of the gas fields where the current dispute is under way.
In the last weeks since May 7, the Chinese research ship, at times flanked by a dozen vessels, has been moving largely across gas block 04-03, operated by Vietsovpetr, a joint-venture between Zarubezhneft and PetroVietnam, according to vessel-tracking data shared with Reuters by South China Sea Chronicle Initiative (SCSCI), an independent non-profit.
It is also regularly crossing blocks 132 and 131 that Vietnam has licensed to Vietgazprom, a joint-venture between Russia's giant Gazprom and PetroVietnam. China has launched competing bids to licence those two blocks.
The three companies and the Russian embassy in Hanoi did not immediately reply to requests for comment.
China's foreign ministry spokesperson, Mao Ning, responding to a question about the standoff, said China had sovereignty over the Spratly Islands and its adjacent waters, and jurisdiction over relevant waters.
"Relevant ships of China carry out normal activities under China's jurisdiction. It is legitimate and lawful, and there is no issue of entering other countries' exclusive economic zones," she told a regular press conference.
Mao said China had maintained communications with relevant parties on the issue and would like to work with them to "jointly safeguard the peace and stability of the South China Sea", adding that China would "definitely protect (its) lawful rights and interests".
On Thursday, when Vietnam issued a rare public statement demanding the ships leave, they were in block 129, also operated by Vietgazprom, according to Powell. The statement followed a visit to Hanoi on Monday by Russian former President and deputy chairman of Russia's security council Dmitry Medvedev.
Two Vietnamese fisheries ships were on Friday shadowing the Chinese vessels at a distance of 200-300 metres, Powell said, noting the Chinese ships had moved to a block adjacent to those operated by the Russian firms.
Under international rules, ships are allowed to cross other countries' EEZs but China's operations have long been perceived as hostile by Vietnam and other countries with claims in the South China Sea, including the Philippines and Malaysia.
Reuters 26/05/2023